AN ADVANCEMENT IN ODOR CONTROL TECHNOLOGY
PEACEMAKER® Dry Air Scrubbers provide two stage chemistry for the control of odors from hydrogen sulfide (H2S) and other odors generated in wastewater collection and treatment systems. They are easy to use, effective and economic.
Lift Stations
Headworks
Grit Rooms
Sludge Processing
In what follows, when we say "odor" we mostly mean H2S. We know there are other reduced-sulfur and nitrogen-based compounds involved and we have planned for them, but H2S is the main culprit and is most important in discussion and design.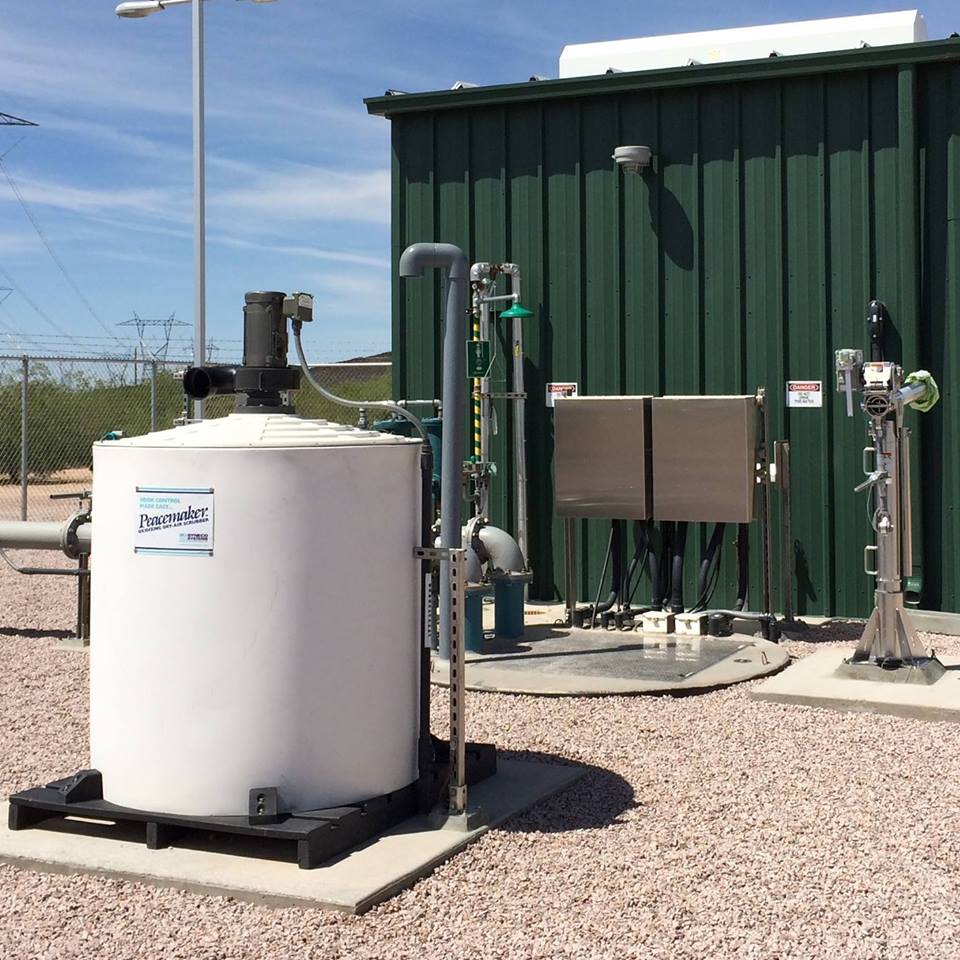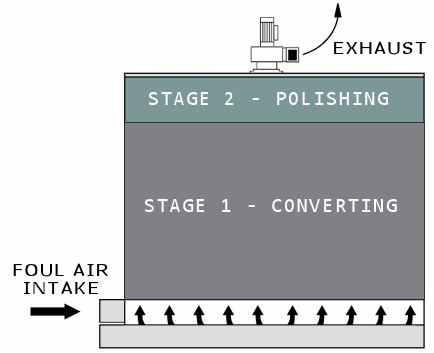 PEACEMAKER® SCRUBBERS GET THE JOB DONE
Stage 1
PEACEMAKER® H2S Converting Media
Converting technology uses a patented polymeric amine, formulated removal of H2S, mercaptans, ammonia's, amines, and reductions of other odors. The combination of multiple amine sites and organophilic properties allows for fast, efficient removal of these problematic compounds. This chemistry reacts with H2S and mercaptans to form water-soluble and non-volatile polysulfides that are readily biodegradable. In simple words, gaseous H2S is turned into a stable liquid polymer. All of our scrubber systems are designed to achieve an H2S reduction of 99%+ through the Stage 1 media bed.
Stage 2
PEACEMAKER® Polishing Media
Activated carbon does a very efficient job of scrubbing low levels of H2S and other malodors. 99%+ of the H2S and the majority of mercaptans, organic amines, and organic sulfurs are removed in the converting bed. With that being accomplished, the polishing bed will easily remove the remaining low-level malodors. This results in complete and economic odor control.
How to Size PEACEMAKER® Converting Dry Air Scrubbers
There are two essential questions to be answered:
How much airflow is required? Benefits accrue from moving only enough air to maintain a slight negative pressure. This will prevent fugitive malodors and provide the best economics. Higher-than-necessary airflow increases static pressure through the media bed and reduces residence time. A larger scrubber may be needed and cost would increase.To calculate optimum airflow we must determine the potential for air displacement (e.g. gpm pumped into a wet well). Of course, if there is an air exchange requirement for confined space entry or a need for higher airflow for any other reasons, it can be accommodated.
How much H2S is in that air? This can be a difficult question to answer. It can be influenced by time of day, time of year, residence time, measuring techniques and numerous additional factors. Truth is it is hard to escape applying some judgment in making this determination. Experience helps, of course, but Peacemaker® systems have built-in flexibility and scalability, which helps, too. Ultimately, the formula is simple: CFM airflow x ppm H2S = quantity of media required.This is an important process, and we need to work together. We start with a review of the following form:
PEACEMAKER® Converting Dry Air Scrubber Sizing
Available Sizes
When we have determined the quantity of media required, we simply match that need to the correct vessel size and add the right fan to provide desired airflow at the existing static pressure.
---
LEASE, BUY OR SERVICE CONTRACT? IT'S YOUR CHOICE!
Lease
The length of "term" for most PEACEMAKER® leases is one to three years. At the end of term, we provide new media or a new scrubber and you return the old one to us, freight collect. If conditions change from one term to the next, we can change the new scrubber to match the new conditions. You will never be stuck with out-grown and useless equipment. In addition, our lease agreement is like our scrubbers — simple and straightforward.
Buy
If your PEACEMAKER® needs to come from a capital budget, this is obviously the way to go. It will still be a great value. Lease or buy, labor and maintenance costs will be minimal. There just is not much to do once the scrubber is up and running besides enjoying the nice clean air and the very quiet phone.
SERVICE CONTRACT
The length of "term" for most PEACEMAKER® service contracts is one to three years. PEACEMAKER® service contracts can be offered for both lease and purchase options. Once H2S loadings and airflow (CFM) are well documented, we would guarantee the life of the Peacemaker® scrubber system for the life of the service contract based on those documented H2S Loadings and airflow (CFM) levels.