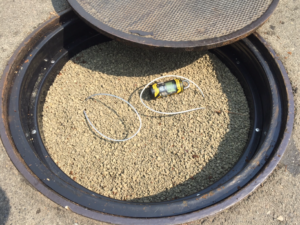 Technology designed for the control of hydrogen sulfide, mercaptans and other malodorous compounds found in sewer gases.
"WHAT'S THAT AWFUL SMELL?"
Nearly all municipalities suffer with odor problems from manholes. The main culprit is hydrogen sulfide (H2S), but other malodorous compounds are present, as well. The problem has not been easy. Treating flow is very expensive. Systems for treating air usually require electrical power and/or clean water. Sealing covers moves the problem down the line or through the vents of neighboring homes and businesses. These complications are all solved with PEACEMAKER® Odor Control Manhole Scrubbers.
Odor Control PEACEMAKER® Manhole Scrubbers provide generous venting through PEACEMAKER® H2S Converting media using a patented polymeric amine, formulated for maximum removal of H2S and volatile mercaptans. The combination of multiple amine sites and organophilic properties allows for fast, efficient removal of these problematic compounds. This chemistry reacts with H2S and mercaptans to form water-soluble and non-volatile poly sulfides that are readily biodegradable. In simple words, gaseous H2S is turned into a stable liquid polymer.
Inserts
ABS plastic not less than 3/32″ nor greater than 6/32." Meet Federal Standards of L.P. 1183 and pass A.S.T.M. tests D 256, D 638, D 790, D 792, D 785 and D 648. Two factory installed galvanized- vinyl coated cable lift straps, for easy removal. Closed cell Neoprene rim gasket.
Media
Red/Tan granules, -3, +5 Tylor Mesh impregnated with H2S Converting Media wt.-/.50 lbs / ft3, on average. Loading recommendation – 1/2 ft3 to 1 ft3 per manhole scrubber, depending on size.
PEACEMAKER® Odor Control Manhole Scrubbers Sizing & Ordering
Technology designed for the control of hydrogen sulfide, mercaptans and other malodorous compounds found in sewer gases.
Required Measurements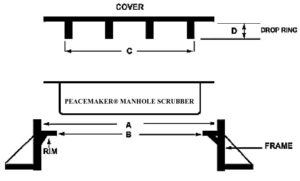 A. Manhole frame diameter (flat bearing surface)
B. Inside frame diameter (clear opening)
C. Drop ring diameter
D. Drop ring depth (from cover underside, outside edge)
PEACEMAKER® Odor Control Manhole Scrubbers Sizing & Ordering
IMPORTANT: Measure each and every manhole for which you are ordering PEACEMAKER® inserts, unless you are absolutely sure of dimensions. Your order will be produced to your supplied dimensions. Errors in instructions received from you may result in unusable inserts for you. The drawing below illustrates the required measurements.
PEACEMAKER® Odor Control Manhole Scrubber Installation
Remove manhole cover and clean rim.
Place PEACEMAKER® manhole scrubber on frame rim and add media.
Replace cover.
IMPORTANT NOTE: Be sure to clean the rim thoroughly. Scrubbers must be placed on flat, non-rocking surfaces to avoid wear and damage in high-traffic installations.
PEACEMAKER® Odor Control Manhole Scrubbers Bid Specifications
SCOPE
1.1 Under this item, the contractor shall supply and install to manufacturer's recommendations a PEACEMAKER® Odor Control Manhole Scrubber as shown on contract drawings and specified hereunder.
MATERIALS AND DESIGN
General
2.1 The PEACEMAKER® manhole scrubber and components shall be manufactured from corrosion proof material suitable for atmospheres containing hydrogen sulphide and dilute sulphuric acid as well as other gases associated with wastewater collection systems and be filled with dry media capable of effective control of odors associated with such gases.
The Body
2.2 The body shall be made from Acrylonitrile Butadiene Styrene plastic that meets the Federal Standards of LP 1183 and can pass the following ASTM test requirements: D 256, D 638, D 790, D 792, D 785, D 648.
The thickness shall not be less than 3/32″ nor greater than 6/32″. The body shall be manufactured to the dimensions as shown on the contract drawings to allow easy installation in the manhole frame.
The Gasket
2.3 The gasket shall be made of closed-cell Neoprene. The gasket shall have a pressure sensitive adhesive on one side and be placed under the manhole scrubber rim by the manufacturer. The adhesive shall be compatible with the body material so as to form a long-lasting bond in either wet or dry conditions of use.
Lift Straps
2.4 The manhole scrubber shall have two lift straps attached to its body. Lift straps shall be made of galvanized-vinyl coated cable. Lift straps shall be attached to insert body by means of a 3/16″ stainless steel rivet.
Manhole Scrubber Media
2.5 The media shall remove H2S and malodorous compounds from the air stream via H2S Converting media. The H2S Converting  media capacities shall not be diminished by ambient humidity.
Sizing
2.6 The manhole scrubber shall be manufactured to fit the manhole frame rim from which it hangs. Specific field measurements shall be required prior to production of the manhole scrubber. Instructions will be made available to the purchaser or engineer for proper measurements.
Installation
3.1 The manhole frame rim shall be cleaned of all dirt or debris before placing the scrubber upon the rim.
3.2 The manhole scrubber shall be fully seated around the manhole frame rim.
Field Testing and Training
4.1 Measure atmospheric H2S in ppm after removing cover but prior to installing manhole scrubber. Measure again after installing manhole scrubber and calculate removal percentage.
4.2 No field training required.
Limited Warranty: Our only obligation shall be to replace or pay for any material proved defective. Beyond the purchase price of materials supplied by us, we assume no liability for damages of any kind and the user accepts the product "as is" and without warranties, expressed or implied. The suitability of the product for an intended use shall be solely up to the user.
PEACEMAKER® Odor Control Manhole Scrubber Pricing
Price Per Insert Quantity
SIZE
1-6
7+
21″ UP TO 25.99″ O.D
$295.00
$270.00
Includes one insert and one 3 1/2 Gallon Pail Media
26″ UP TO 31.99″ O.D.
$345.00
$320.00
Includes one insert and one 3 1/2 Gallon Pail Media
32″ UP TO 40″ O.D.
$495.00
$470.00
Includes one insert and two 3 1/2 Gallon Pails Media
PEACEMAKER® Odor Control Manhole Scrubber Pricing
---