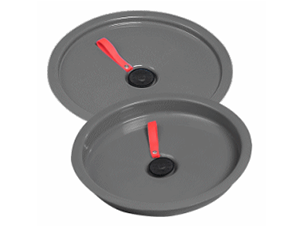 Inflow Inserts, technology designed for the control of hydrogen sulfide, mercaptans and other malodorous compounds found in sewer gases.
With sewage treatment costs rising, and many other city systems strained to the breaking point, officials are taking a closer look at streamlining existing plant operations and sewer systems. One of the ways they are doing this is to eliminate rainwater from the sanitary sewer system by using patented Protector® Manhole Inserts. During rainy weather, an average manhole contributes from 3,000 to 12,000 gallons of rainwater per day to your treatment system. Keeping that kind of volume out will save you money.
Features
Easy installation by one person
Sturdy, shock-resistant ABS construction
Sewer gas is vented through valve at 1 p.s.i. or less
Maximum of 10 gallons drip through valve in 24 hours
Benefits
Lift strap provided for easy removal
Stop inflow of rainwater into sewage systems
Reduce manhole rattling and flipping due to street traffic
Stop dirt and debris from entering collection system through manhole cover
One-year warranty against defects in material and workmanship
Peacemaker® Inflow Protector Manhole Inserts
PEACEMAKER® Inflow Protector Inserts Sizing
Measure each and every manhole for which you are ordering inserts, unless you are absolutely sure of dimensions. Your order will be produced to your supplied dimensions. Errors in instructions received from you may result in unusable inserts for you because they are non-returnable.
If you have any questions concerning the insert dimensions please call: 952.927.9215.
The drawings below illustrate the required measurements:
The Style of insert (IP-1 or IP-2) is determined by the cover configuration. Style IP-1 inserts are for manhole covers with an essentially flat underside. Style IP-2 inserts are designed for deeper covers – so the C and D Dimensions must be provided.
A. Manhole Frame Diameter (flat bearing surface)
B. Inside Frame Diameter (clear opening)
C. Drop Ring Diameter
D. Drop Ring Depth (from cover underside, outside edge) A. Manhole Frame Diameter (flat bearing surface)


PEACEMAKER® Inflow Protector Manhole Inserts Sizing Instructions
PEACEMAKER® Inflow Protector Inserts Bid Specifications
---
SCOPE
1.1 Under this item, the contractor shall supply and install to manufacturer's recommendations an Inflow Protector® Manhole Insert as shown on contract drawings and specified hereunder.
MATERIALS & DESIGN General
2.1 The Inflow Protector® Manhole Insert and components shall be manufactured from corrosion-proof material suitable for atmospheres containing hydrogen sulphide and dilute sulfuric acid as well as other gases associated with wastewater collection systems.
The Body
2.2 The insert body shall be made from Acrylonitrile Butadiene Styrene plastic that meets the Federal Standards of LP 1183 and can pass the following ASTM test requirements: D 256, D 638, D 790, D 792, D 785, D 648. The thickness shall not be less than 3/32″ nor greater than 6/32." The insert body shall be manufactured to the dimensions as shown on the contract drawings to allow easy installation in the manhole frame.
Gasket
2.3 The gasket shall be made of closed cell Neoprene. The gasket shall have a pressure sensitive adhesive on one side and be placed under the insert rim by the manufacturer. The adhesive shall be compatible with the insert material so as to form a long-lasting bond in either wet or dry conditions of use.
Relief Valve
2.4 The gas relief valve shall be designed to relieve at a pressure of 1 p.s.i. or less. The valve body shall be made of medium density polyethylene. The venting tube shall be capable of sealing out dirt and small debris. The valve shall have leak-down rate not exceeding 10 gallons in 24 hours to eliminate the ponding of water over the manhole after a rainstorm. The gas relief valve shall have no metal parts.
The valve shall be recessed into the bottom center of the insert so that it is protected and will not be broken by any movement of the cover over the valve. This valve configuration will allow the shallowest practicable insert design, eliminating unnecessary water retention or weight accumulation. The valve shall be easily removed for water drainage should inspection be required immediately after or during rainstorm.
Lift Strap
2.5 The insert shall have a lift strap attached to the body. Lift straps shall be made of 1" width polyester nylon and shall be seared on all cut ends to prevent unraveling or deterioration. Lift strap shall be attached to insert body by means of a sealed 3/16″ stainless steel rivet. Attachment of the lift strap to the insert body shall be in a recess to prevent contact with manhole cover during removal and replacement of the manhole cover.
Sizing
2.6 The Inflow Protector® Manhole Insert shall be manufactured to fit the manhole frame rim from which it hangs. Specific field measurements shall be required prior to production of the insert. Instructions will be made available to the purchaser or engineer for proper measurements.
INSTALLATION
3.1 The manhole frame rim shall be cleaned of all dirt or debris before placing the insert upon the rim.
3.2 The insert shall be fully seated around the manhole frame rim to retard water from seeping between the insert and the manhole frame rim.
FIELD TESTING & TRAINING
4.1 After installation the Inflow Protector® Manhole Insert shall not infiltrate more than 10 gallons in 24 hours.
4.2 No field training required.
PEACEMAKER® Inflow Protector Bid Specifications